Vietnam War - Astronauts Edward White & James McDiWitt Recovery By Helicopter of USS Wasp June 7 1965 Zippo Lighter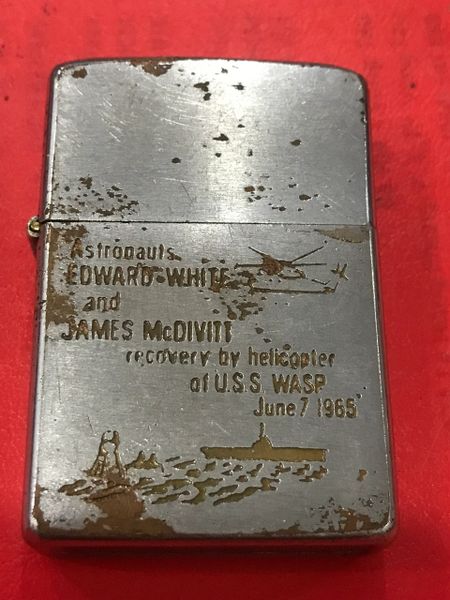 Vietnam War - Astronauts Edward White & James McDiWitt Recovery By Helicopter of USS Wasp June 7 1965 Zippo Lighter
Working condition 
When Shipped out of customs Service request no fuel no flint .
it is astronauts gemini apollo 1962 name record 1965 recovery helicopter and zippo access in 1971.
A second group of nine astronauts was selected by NASA in September 1962. All of this group flew missions in the Gemini program except Elliot See, who died in a flight accident while preparing for the Gemini 9 flight. All of the others also flew on Apollo, except for Ed White, who died in the Apollo 1 launchpad fire.
Three of this group, McDivitt, Borman and Armstrong, made single flights in both Gemini and Apollo. Four others, Young, Lovell, Stafford and Conrad, each made two flights in Gemini and at least one flight in Apollo. Young and Lovell both made two Apollo flights. Conrad and Stafford also made second flights in Apollo spacecraft, Conrad on Skylab 2 and Stafford in Apollo–Soyuz.
Six of this group, Borman, Lovell, Stafford, Young, Armstrong and Conrad, made flights to the Moon. Lovell and Young went to the Moon twice. Armstrong, Conrad, and Young walked on the Moon. McDivitt was later Apollo Program Director and became the first general officer and would have been either the prime LM Pilot