UH1 Helicopter US AirCraft Cyclic Control System Model204 1967(Ser#204-001-0681)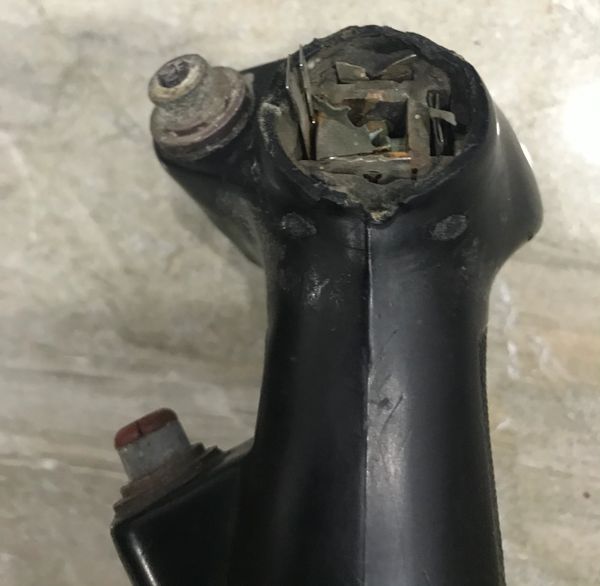 UH1 Helicopter US AirCraft Cyclic Control System Model204 1967(Ser#204-001-0681)
Serial no :204-001-0681
Part no. 702-5102
ANSUL
Condition : Damage Parts ! lost Some Parts in cycle control sys
there is not working condition and damage parts a long time ago some needed to repairing this and found some lost mising parts as : Water Pump or Called Drop Tank / Door Closed , Force Trim, Water Drop,etc....
Cyclic Control System
The system is operated by the cyclic stick movement. Moving the stick in any direction will produce a corresponding movement of the helicopter which is a result of a change in the plane of rotation of the main rotor. The pilot cyclic contains the cargo release switch, radio ICS switch, armament fire control switch, hoist switch and force trim switch. Desired operating friction can be induced into the control stick by hand tightening the friction adjuster.
the UH-1 Iroquois single-engine military helicopter of the Huey family of helicopters. They are type-certificated in the transport category and are used in a wide variety of applications, including crop dusting, cargo lifting and aerial firefighting.
Cycle Control System designed its Model 204 in response to a 1955 United States Army requirement for a utility helicopter. The 204 was a giant step forward in helicopter design, being one of the first to be powered by a turboshaft. The turboshaft engine radically improved the practicality of the helicopter due to its light weight and high power-to-weight ratio, lower fuel consumption, and lower maintenance and operating costs. The use of a turboshaft in the 204 allowed it to carry a useful payload over respectable ranges and at reasonable speeds, which resulted in the 204 
Model 204 helicopters Cycle Control System had been delivered by 1967