(2)UH1 Helicopter US AirCraft Cyclic Control Sys Model205 1967(Ser#205-001-0461-1)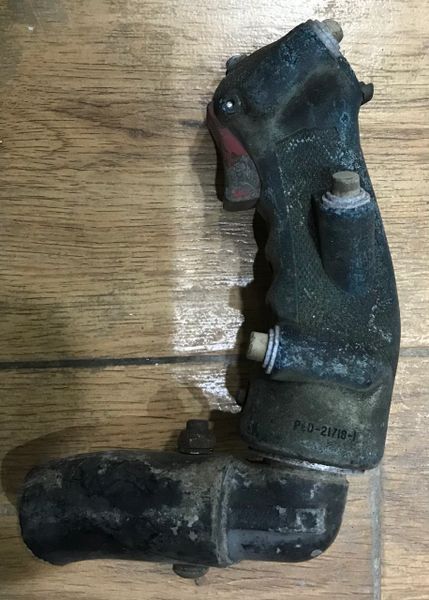 (2)UH1 Helicopter US AirCraft Cyclic Control Sys Model205 1967(Ser#205-001-0461-1)
Serial no :205-001-0461-1
Part no. PD-2178-1
Condition : Good ! acceptable
Cyclic Control System

The system is operated by the cyclic stick movement. Moving the stick in any direction will produce a corresponding movement of the helicopter which is a result of a change in the plane of rotation of the main rotor. The pilot cyclic contains the cargo release switch, radio ICS switch, armament fire control switch, hoist switch and force trim switch. Desired operating friction can be induced into the control stick by hand tightening the friction adjuster.
Stories : 
the UH-1 Iroquois single-engine military helicopter of the Huey family of helicopters. They are type-certificated in the transport category and are used in a wide variety of applications, including crop dusting, cargo lifting and aerial firefighting.
Cycle Control System designed its Model 205 in response to a 1966 United States Army requirement for a utility helicopter. The use of a turboshaft in the 205 allowed it to carry a useful payload over respectable ranges and at reasonable speeds, which resulted in the model and subsequent 205 becoming the most successful western helicopter series in terms of numbers The subsequent Model 205 is equivalent to the UH-1H, has better performance and a more powerful engine.
Model 205 helicopters Cycle Control System had been delivered by 1968
205B – Civil or military utility transport helicopter, derived from the UH-1B. Powered by a T53, max weight was 8,500 lbs, max passengers, ten
Bell Helicopter's company designation of the UH-1. Manufacturers Grip Assemble type :CCC & MPN : 205-001-046-1.